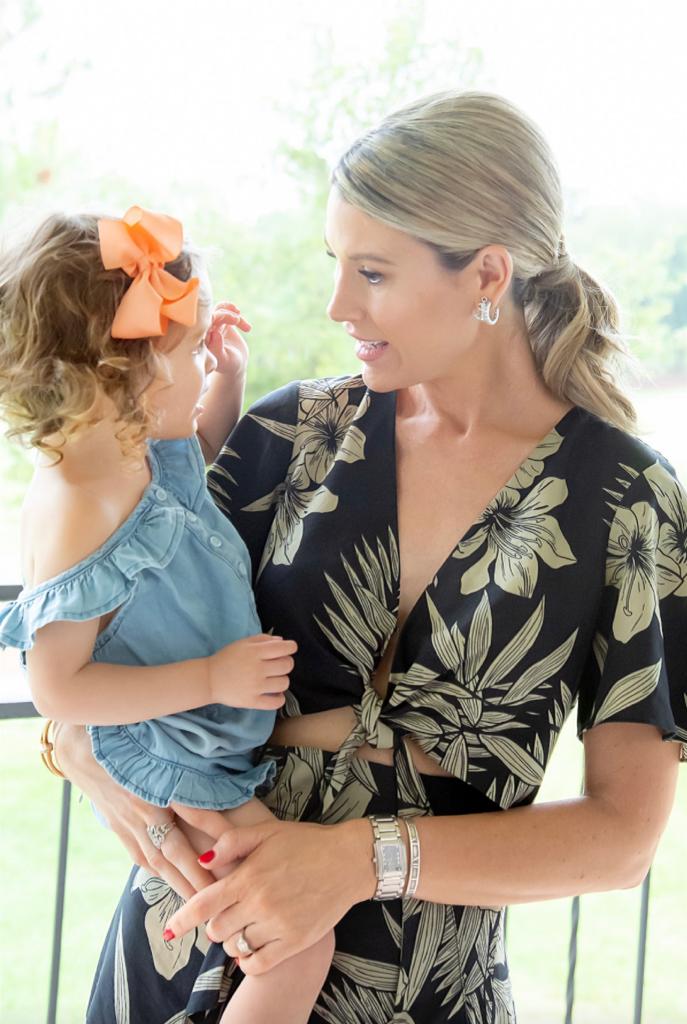 Meet Sadie Mantovani, creative director at MY WARDROBE KIDS
How did you get into childrenswear?  
I began working in luxury lifestyle and fashion communications at Aurelia PR. After 2 years I left for my first in-house role, at Ozwald Boateng, and from there I joined Ralph Lauren as PR Assistant thanks to my wonderful ex-boss at Aurelia taking me with him when he got a job there. I left after 15 years as Vice President of Communications. I worked on all collections and areas of the business, one of which was Polo for kids.
How did you come to be Creative Director at MY WARDROBE KIDS? 
After having my little girl, I left Ralph Lauren to set up my own freelance brand consultancy. I work with Whitehair.CO which has a portfolio of brands with sustainability and responsible consumerism at its core, while another brand I work with is Maison Margaux Ltd, a luxury rental business. MY WARDROBE HQ encompasses all these elements, so when the founder Sacha Newall and I met and I heard about the launch of the kids arm of the business, we happily had a lot to discuss.
Do you dress your daughter in 2nd hand or rented clothing?  
I do – every season I take a load of my 3 year old daughter's outgrown clothes to a store near my home and leave having bought lots for her. Now she is becoming what we call a Little Sharer via MY WARDROBE KIDS and both of us have become renting experts! We usually buy lots of separates which she can play in and wear to school and rent gorgeous dresses for birthday parties, weddings, christenings etc.
Why do you think rental and resale is so right, right now? 
The rental model is hugely topical, especially right now with lockdown uncertainties and hygiene fears. Whilst we don't want to accumulate more stuff, we have no choice but to dress growing kids! It has so many benefits: firstly it's a more affordable way to shop – the discounts are great – both for women and children, plus the MWHQ model helps women to monetise their wardrobes. It also helps women do their bit to help save the planet, so actually we're seeing that the sustainability of the model is proving one of our biggest draws. MWK is based on the success of the existing womenswear model and requests for high-end childrenswear from our existing customers. They are looking for more socially conscious and sustainable ways of consuming and our mission is to challenge the status quo by giving new life to pre-owned and past-season luxury goods through the circular economy.  The brilliant thing about MWHQ and MWK is that if you fall in love with something on the site, you can also BUY it. I envisage people doing this for smaller siblings, when you want to keep one of the more special, more formal pieces to pass on to the younger kids.
What are the benefits of renting for the environment? 
I was reading a feature recently in Vogue Business about a story on Gen Z not being 100% convinced on rental fashion until we can sort the dry cleaning issues it presents. Well, we use the most planet-friendly cleaning technology; a pioneering system called Ozone that uses oxidation to kill bacteria and viruses so that every item is disinfected, sanitised and deodorised in between rentals. It uses up to 65% less water, 20% less energy, and 80% less chemical than conventional techniques, yet it still leaves clothes in a state of medical grade cleanliness, making it safer when it reaches the customer than they would find garments when buying them from stores.
What are the benefits of renting for designer brands? 
Having worked with brands for so long and knowing what is attractive to their leaders. Renting via MWHQ and MWK doesn't just provide a monetary benefit, it attracts a new customer into its own stores. Our research shows that by renting a brand, it actually offers a 'try before you buy' element into that brand with customers then purchasing the brand later on at full price. MWHQ and MWK offers an additional way for brands and retailers to sell through pieces that either didn't make it into production, were press samples, or didn't sell through at the end of each season. Every brand is looking to be more sustainable and this is the perfect way to achieve that operational pillar. 
What do you think are the growing trends in rental? 
Rental is enjoying a real moment, as what the world is going through right now is affecting what and how we consume and the choices we make. You can rent most of your life now, it used to mean your house or your car and now it can be your clothes, wedding dress – after MWHQ launched bridal last month – tablescapes, watches, handbags, even pets (I know!!)
How does the MWK model work? 
It's so easy – you browse the site and choose items to rent and wear from as little as 4 days to as long as 14 days. Send it back for free via a pre-paid DPD return label – there are full refunds for any unworn items – and MWK takes care of all the boring stuff like dry cleaning and ironing, etc…). And as I mentioned before, if you love it – or your child does – you can buy it too. It's genius!
Sadie's Favourite Picks
"This Marie Chantal velvet dress in pink is utterly adorable. Velvet is the perfect look for the new season and ideal for the huge influx of birthday party invites now that school has started."
"I love House of Minimus' boiler suit for boys and girls. It's great for running around in and can be worn with a T-shirt underneath for summer then switched up with a polo neck for autumn. I'm going to be twinning with my daughter Scout when I rent the women's version!"