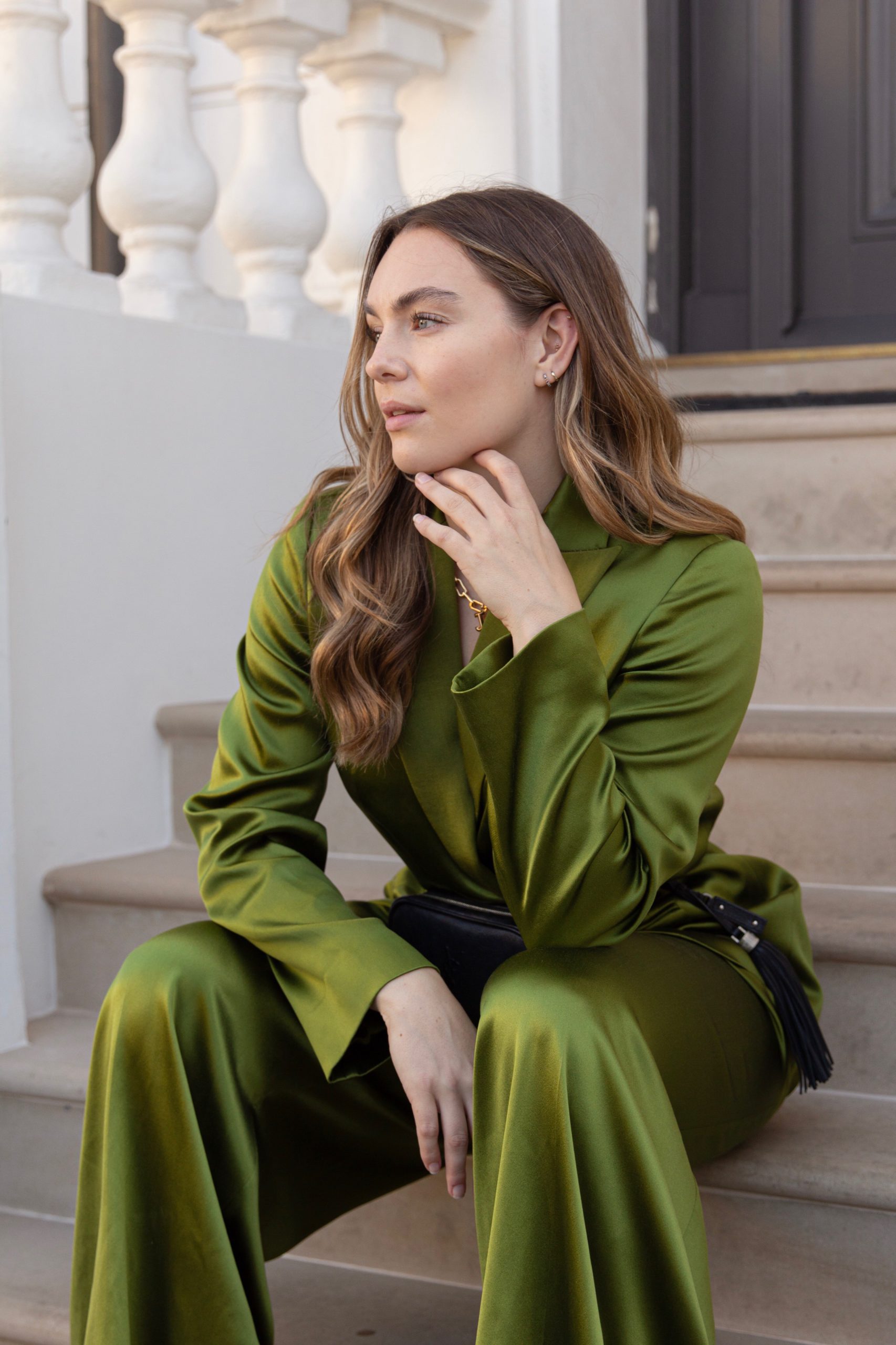 Jenna Nicholls on Shopping Sustainably
"Inexpensive clothing produced rapidly by mass-market retailers in response to the latest trends."
Fast fashion…a term you've heard a lot recently and one that isn't going away anytime soon. The British fashion industry has woken up to the damaging impact of mass consumption – more so recently after the Misguided £1 bikini hit headlines and the shift to shopping sustainably.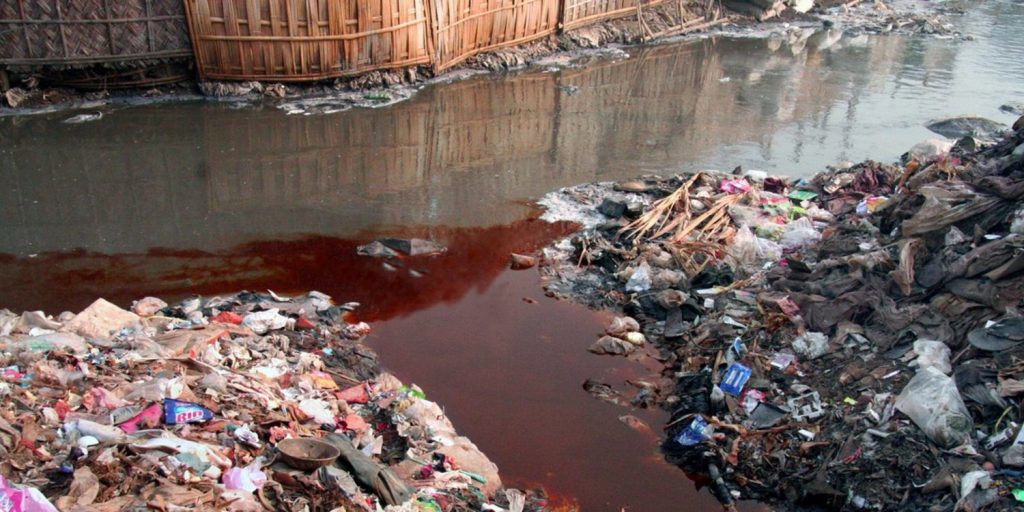 Beyond the environmental impact that's caused by discarded or unwanted articles of clothing, the process of producing enough clothing to keep up with demand is equally damaging. Clothing brands are promoting over-consumption and increasing their carbon footprint without implementing the proper processes to reduce their environmental impact. In a generation where we prefer online shopping to the in-store experience, brands are feeling the pressure to drop 100's of new-in pieces every week to meet consumer demands. I'm certainly guilty of shopping because of the variety of clothing/very cheap prices and I'll admit, sometimes I've worn these items once or even not at all.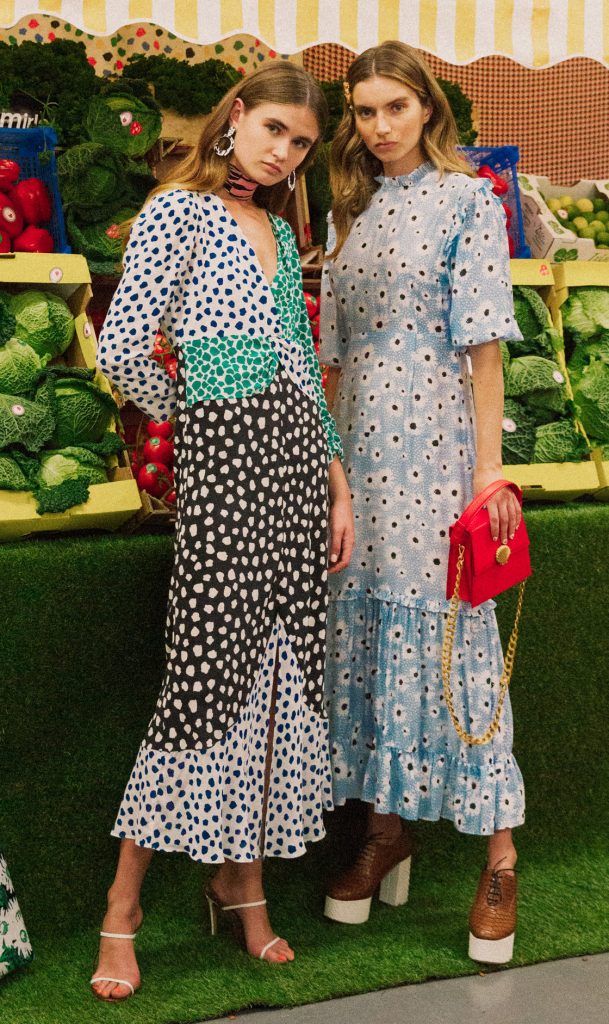 Something that is often asked is why some brands' pricing is increasing while so many others are decreasing to stay competitive. A lot of this is down to the process in which items are made. Brands that listen to consumers on sustainability and wage equality have to increase costs to cover this. Take RIXO for example; a British brand I love because of its amazing fabrics and prints. These are sourced by hand in the countries they originate and where fair prices are paid directly to the seller. The garments then go through the manufacturing stage where people are paid a competitive and fair wage. Many other brands are looking to other sustainable initiatives such as packaging; Kitri source compostable bags – excellent!
It's all great stuff. But is it enough?
As a consumer there are lots of things that we can do to help promote sustainability in the fashion industry, while supporting independent and emerging brands.
When you're shopping do you think about how green the brand is? How your purchase might affect global warming?
The tips below have been accumulated from research into this topic and are things I now adopt:
Quality is really important when purchasing a new item. Of the pieces already in your wardrobe, ask yourself – how many times have I worn this item before it's shrunk, stretched, or fallen apart? Sadly this happens all too often because good quality isn't found in cut-price products. Each purchase should be an investment so that over a long period of time, the cost per wear is fantastic and not a flop.
As I get older I am learning what I will and won't wear time and time again. However, the pressures of social media dictate that we 'need' new outfits. My advice is to invest in a staple wardrobe; good pieces you can bring out every year and team up with some on-trend pieces so that you are not overhauling your wardrobe each season. It's costly and wasteful and just not necessary.
Learning how to up-cycle clothes allows you to showcase your style and keep up with the latest trends without hurting the planet. YouTube is full of amazing 'how-to' videos, bringing out your old, hardly worn pieces and giving them a serious makeover. As well as being good for the environment, this is also lighter on your purse. Do you have a frayed pair of jeans? Cut them into shorts… it's that simple!
I absolutely LOVE the idea of swapping clothes or selling/buying second hand. It's a really good way to be sustainable and is an easy way to give your wardrobe a refresh!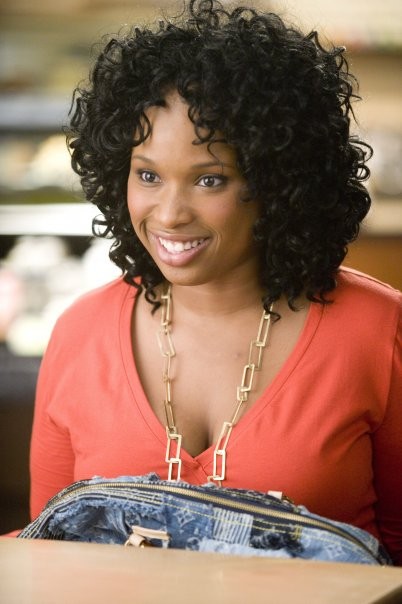 It was first introduced to us (well me anyway) on SATC and now clothing rental is a revolution taking over the fashion industry. As The London Chatter said recently: "It's never been more fashionable to give a damn! They say the most Sustainable Fashion you can wear is what's already in your wardrobe… and I think the future of fashion is wearing what's in each other's."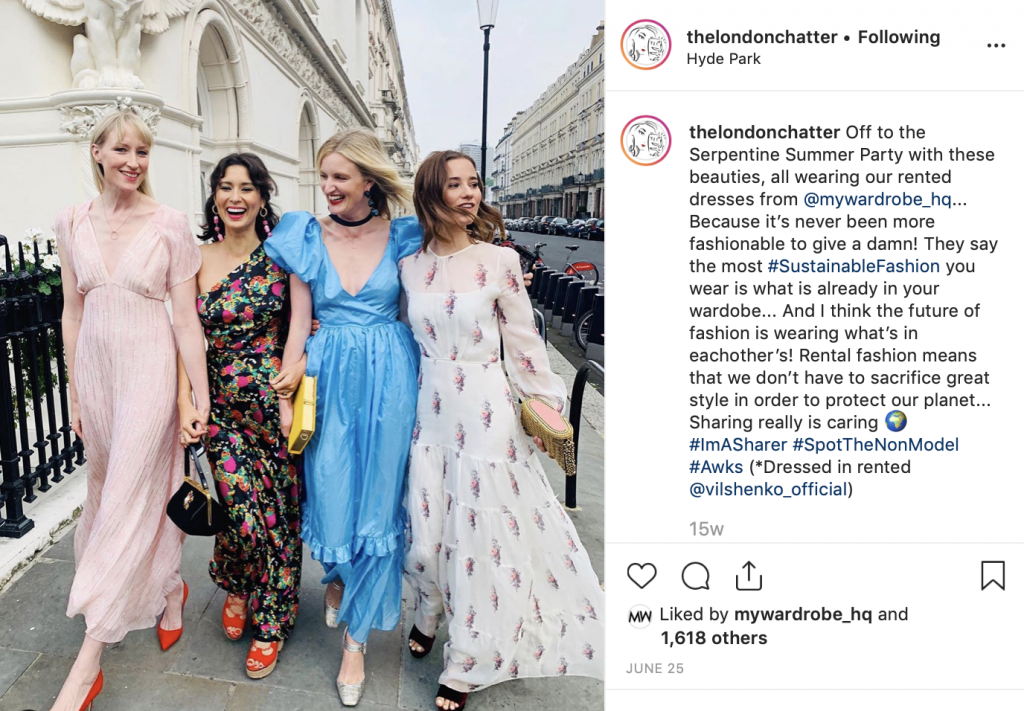 I am particularly excited to be working with MY WARDROBE HQ – a social shopping platform where you can buy, sell and rent designer items – and share the experience of renting with you. It's the perfect opportunity to wear gorgeous pieces by amazing designers, calling an end to single use purchases.
"The environmental impacts of fashion should not stop us from the liberation that fashion has given to women – it should only make us change how we consume it. There is no need to buy a dress, when we can rent one." – Emily Brougton, Saving the Grace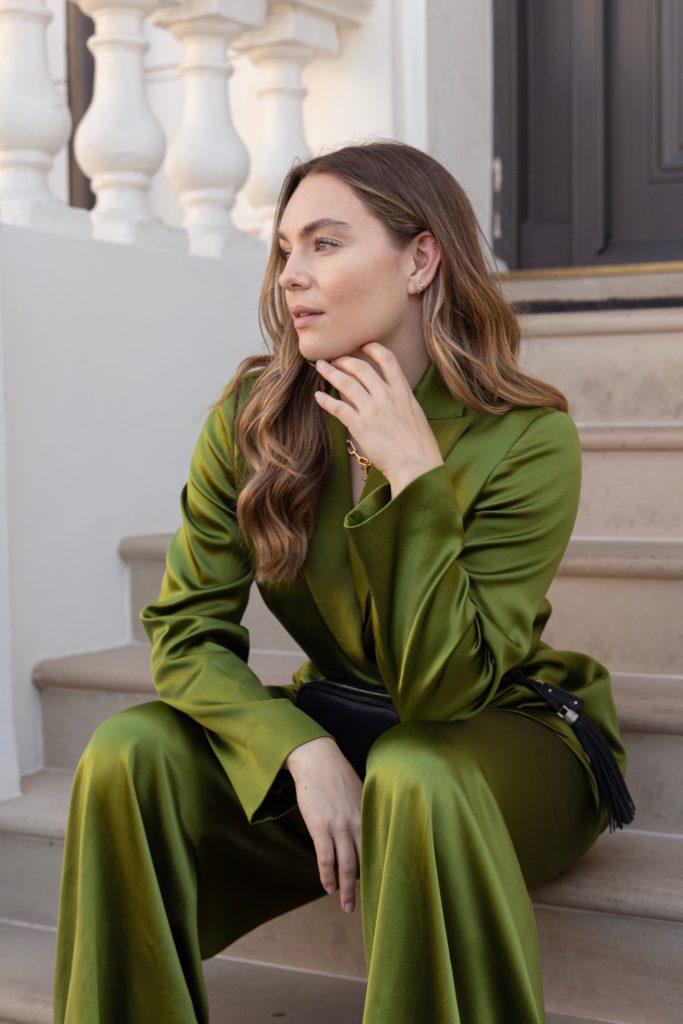 MY WARDROBE HQ is super easy to use and hosts a mega catalogue of brands and members' wardrobes you can rent from such as Poppy and Chloe Delevingne, Caroline Flemming and Olivia Buckingham. All you have to do to start is register your interest through their homepage and follow these next steps:
Log in with your invitation code, register your details and then start browsing designer items available from members' wardrobes and brand profiles
Determine the perfect rental period and price to suit you both. You can rent from 1 day to 1 year – a unique rental experience available only on MWHQ
Honestly, I can't think of anything better. I already share a lot of my items with friends and vice versa, but after being lucky enough to see the many, many rails of goodies that MWHQ has to offer, I'm incredibly excited at the prospect of being able to rent the perfect piece for future occasions.