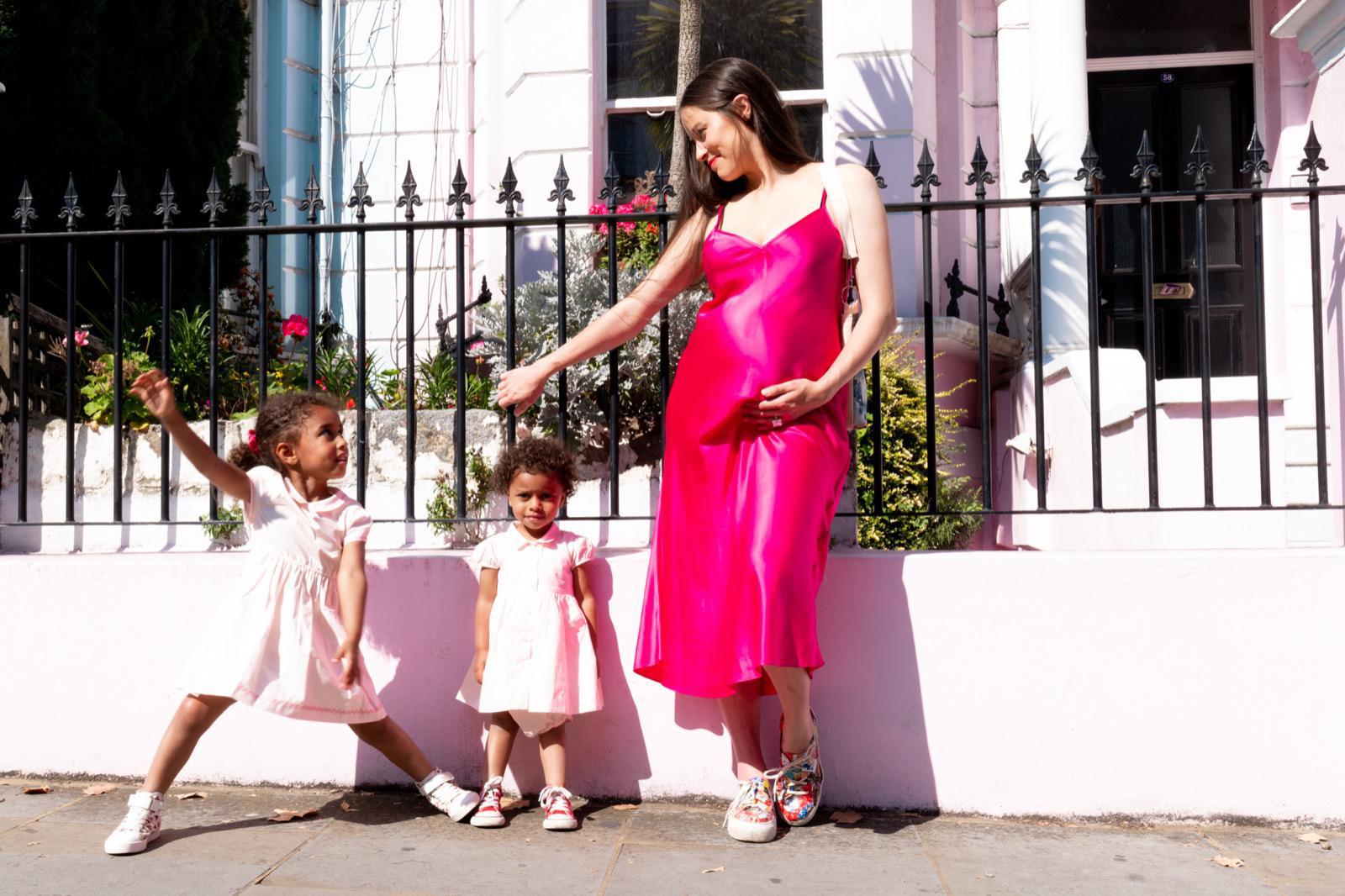 Introducing Maddison May 💖
We sat down with model, mental health and wellness advocate, not to mention supermum, Maddison May Modupe-Ojo (neé Brudenell) and asked her to tell us about her world…
How long have you been modelling with your beautiful girls?
I have been gradually returning to modelling again since my pregnancy with my husband and my second child, Phebe. Daphne, foetus Phebe and I began testing in Manchester with Brandie Chrisambo @Bijuaru, a talented photographer and friend of our family. Coming back to the industry as a health-conscious mum of two has taken me a couple of years to warm up to. Here I am in 2020, pregnant again, but ready to work. I am honoured by my girls joining me in front of the camera as they clearly enjoy to do so.
Maddison wears Silk Slip dress by Ellory
Phebe wears the Evette Poplin dress by Marie Chantal
Daphne wears the Eliora dress by Marie Chantal
When you were growing up, did you always want to work in fashion?
My interest in modelling came around age 16 while living at the all-girls boarding school I attended. I Skyped my aunt who had been in the industry many years herself and she said we needed to have a chat about it. I was serious about it and so she talked with me seriously about what the industry was like.
At MWK we are inspired by female leaders (particularly as our leaders are two incredible women!). Who inspires you?
I absolutely adore being close to women of wisdom, knowledge and love. There are many currently in all areas of my life.
What inspires you?
Humans overcoming adversity, people loving each other, nature; Yeshua.
What's your favourite fashion trend for your children?
Dungarees and dungaree dresses.
What's most important to you when choosing an outfit both for yourself, and for your children?
It's important to me that myself and my girls behave and appear elegantly toward others, always. As long as we're working towards that, we're stylish.
Maddison wears the Annabella Floral Print dress by Borgo de Nor
Phebe wears the Emilyn Tutu Skirt by Marie Chantal
Daphne wears the Eliora dress by Marie Chantal
What do you like about the experience of rental fashion?
I think it's absolutely genius. My sister and founder of Adopted Threads is well educated about the issues within the fast fashion industry and keeps me informed. She runs a business with an equally sustainable model and we just love what you're doing. Clearly a lot needs doing to achieve good style worldwide. I'd always go towards natural, organic fabrics for long-term use but for special occasions I want us to TURN UP aesthetically, enjoy ourselves to the max and give out the best vibes possible via all colour, form & materials. MWHQ and MW Kids allows us to do this in good conscience and all the more enjoyably!
Model/Little Sharers: Maddison May, Daphne, Phebe
Make up: Holly Ellis
Hair: Lucy Gedney
Photographer: Jordan Brudenell
Pageboy Projects