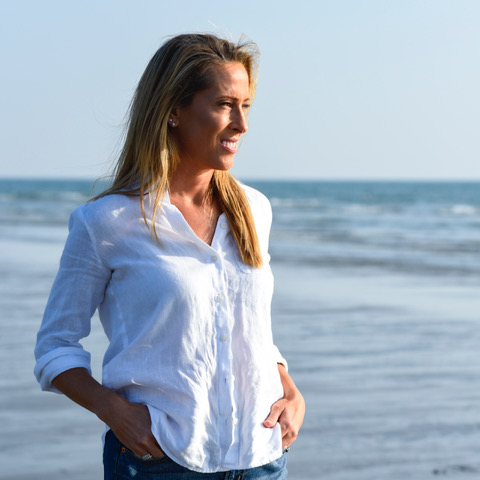 5 Minutes with… Gabi Jennings, Founder of Love Ocean 🌊
When did you first have the idea for your business and how did this evolve to where you are today?
Simple swaps in the kitchen and bathroom are the easiest way to live a more sustainable life, and I've always tried to make better choices for me and my family, where time and money allow. When you're busy, working, running the house, trying to cram everything into the day, sustainability can sometimes drop to the bottom of your list so I knew whatever the idea, I had to make it easy. I've got two kids, and I noticed in particular that there were very few eco-friendly choices in the kids market.
About two years ago, I started to think about doing something about it. At the same time, I was noticing the connection my kids had with the ocean – my husband is from the Isle of Wight, and whenever we have the chance, we spend time on the beaches there – and the questions they were asking about the waste that would sometimes wash up on the beach made me think about what can be done to help. So, I wanted to create something that would practically help the ocean, but also inspire conversation in families about the effect our choices have on the environment. And so, Love Ocean was born.
When you were growing up, did you always want to work in your industry?
I've worked in the publishing and beauty industries for 20 years, but always been passionate in my personal life about the environment. I've also had an interesting relationship with the ocean. Despite being a strong swimmer, I had always avoided going into the sea, afraid of being out of my depth and worried about what's beneath the surface.
One day, while my family were eating lunch near the sea and enjoying themselves, so I decided to take a moment to challenge myself. I decided to swim out to a buoy I could see floating in the distance and see if being out of my depth wasn't as bad as I feared. I was saying to myself "Yes, I can do this. I can do this." And suddenly, the panic set in. Rather than turn back, I kept going, pushing through the fear and controlling my mind. When I made it to the buoy, I was greeted by cheers from my husband who'd spotted what I was doing and was willing me on from the shore.
Pushing through that fear 100% changed my life. And that moment was the trigger that gave me the courage to launch Love Ocean.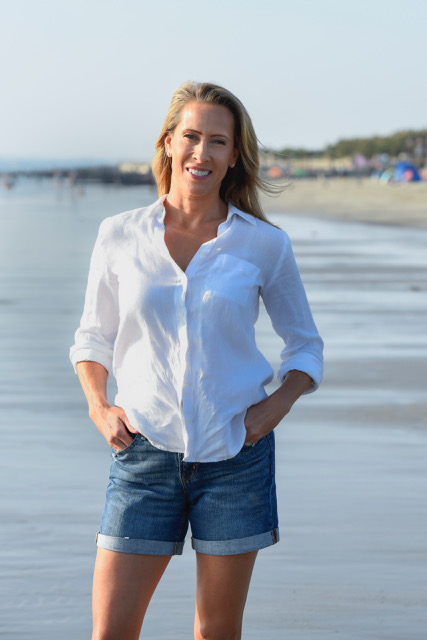 At MWHQ we are inspired by female leaders (particularly as our leaders are two incredible women!) – have you been inspired by past colleagues or leaders?
The story of me launching Love Ocean (launched on World Ocean Day 8/6/21) is pretty unique – but long -so I'll give you the condensed version. As I was evolving my idea for a sustainable kids' brand, – a series of pretty unbelievable coincidences led me to meet Karen Welman. I didn't know who she was at the time (she was the founder of award-winning design agency Pearlfisher). By chance, I attended a 'Women in Design' event where she was a keynote speaker, talking about how great design can change the world. I managed to get introduced and I gave her an elevator pitch of my idea – a sustainable bath brand for kids with the same impact that Matey had for me as a kid – and she offered to work with me.
This led to her mentoring me which was such a wonderful gift, and then subsequently Pearlfisher taking the business on as an investment client and, since her death, Love Ocean has become a legacy client for her agency. She was amazing, and I was enormously privileged to have her mentorship before she sadly passed away. Pearlfisher designed the iconic whale shaped bottle – which I hope will become a bathroom icon and most importantly change the way we treat plastic. It's a miracle material, and we have such a disposable attitude to it. So, part of Love Ocean's mission is to galvanise everyone into a refill-reuse mindset.
What's your favourite fashion trend for your children?
My kids are pretty active – a bit like me – so I tend to buy mostly practical hard-wearing, natural clothes. I definitely look out for more sustainable brands too – it's great that a handful of the high street shops are making it possible to make better choices in that market too. Let's hope more follow their lead.
What's most important to you when choosing an outfit for yourself , and for your children?
I spend a lot of my time in exercise gear and swimming togs – winter and summer. As much as I love dressing up – I spent a 20 year career in the beauty and publishing industries – so I'm definitely not averse to a frock or two. But you'll mostly find me in Finisterre or Dry Robe if I'm coming off the beach. I want practical, sustainable, quality clothes that can keep up with me and the kids!
What is your favourite piece from the MWK platform and what would you choose for yourself to match from the women's platform?
Ava is such a girly girl, I love dressing her in light blues as she has the most incredible bright marine blue eyes….Also, as you will mostly find us by the coast, so this little nautical inspired dress is perfect! I love the US preppy look for boys – this navy checked shirt is perfect for Max with jeans or chino shorts….although at age 9 he is mostly likely to be seen in a Chelsea strip – I so wish he would still let me dress him! For me, I am always looking for a statement white summer dress – and love the navy stripe addition to this dress in-keeping with my nautical style obsession…..although not sure this would work with my white Helly Hansen splash jacket! 
You share our sustainable values- what do you like about the experience of rental and resale fashion and how it can help the current consumer climate?
It's amazing. Five years ago, these kinds of conversations were on the margins and fashion really hadn't embraced sustainable goals as much as other markets. Now, seeing what you and other brands are doing in offering rental and resale of quality clothes is so encouraging. Encouraging the consumer to invest in key pieces, to eschew fast fashion, to rent and re-love, is definitely the right direction. I'm a huge fan.
What would you say has been the driving force for your success?
As I mentioned, Karen's mentorship was incredibly important to me. Launching a business as a woman brings about its own challenges. A study by the British Business Bank found that for every £1 of venture capital (VC) investment in the UK, all-female founder teams get less than 1p whilst all-male founder teams get 89p. So whether it's the confidence to actually set your idea in motion, or the wherewithal to secure funding when the odds are so stacked against an all-female founding team, which is what we have at Love Ocean, I keep coming back to that swim: if I'm out of my depth, I push down the panic and just keep going. It's tough, but the rewards are definitely worth it.