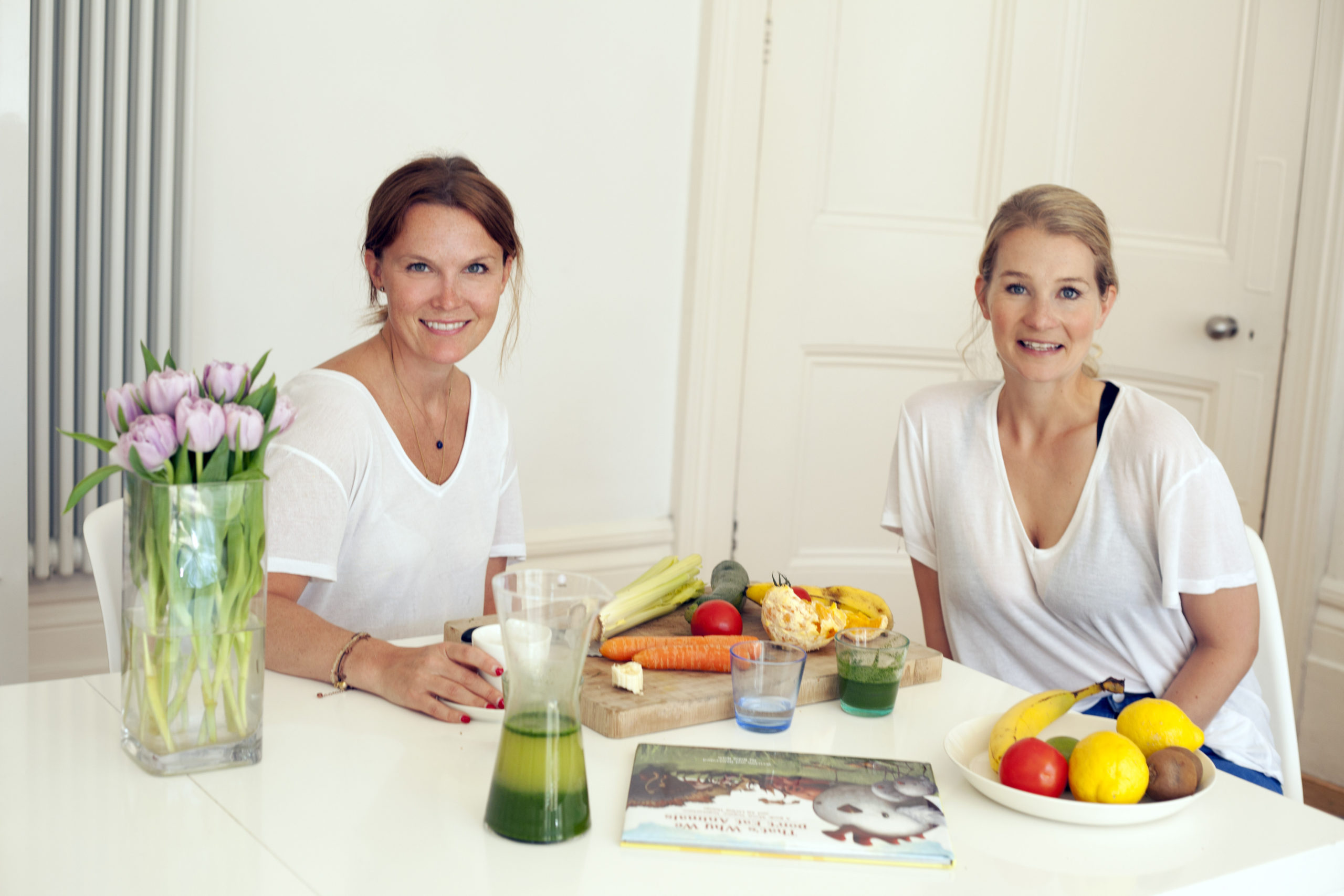 5 minutes with… Children's Book Writers Erika Nilsson-Humphrey and Keziah Breslin 📖✨
When did you first have the idea for your wonderful books, and how did this evolve to where you are today?
Erika: When our daughters started school at 3 years of age, we realised we were two vegan families and as if by chance or the universe conspiring, the girls, Liv and Vivi, became absolute best friends – Maybe it was a vegan vibe ;). It was after two years of knowing each other that the idea for a book started to come to mind. We had both been buying children's books on veganism, mainly as a way of answering the questions our girls would ask us, such as "what is meat?". We found that the girls didn't connect with the books we bought in a real way. So, we decided to write our own book together! We came to the conclusion that our society doesn't speak to children in a truthful manner when it comes to food choices; what it is that we are eating or how choosing what to eat affects not only us but animals and the planet.
We decided to address these issues and create stories that speak to children in a truthful, yet child friendly way. We wanted the characters to become role models and heros – they ask the questions our girls had asked us and to probe into issues that face our planet- so they become advocates for plant-based eaters but also for animals and the planet. Real vegan super heros.
When you were growing up, did you always want to be a writer?
Erika: I always loved reading and creative writing at school. When I went into finance however the thing that I enjoyed the most was writing and I became responsible for writing within our team. I also took creative writing courses outside of work.
Keziah: Not really – This dream that happened for me as an adult and grew into reality. I think that's why co-writing was so wonderful. Erika is a lady who gets the job done- when we started to talk about the book, she really made sure it came to life – she's totally full of energy, enthused and saw our idea through.
At MWHQ we are inspired by female leaders (particularly as our leaders are two incredible women!) – have you been inspired by past colleagues or leaders?
Erika: Yes, and we are big believers that we need more women leaders! We are deeply inspired by women like Brene Brown, Suzy Batiz and Sara Blakely. Women that have brought vulnerability, femininity and spirituality into their lives and businesses.
Keziah: Yes totally- my mum was all about sustainability before it was even fashionable- she still makes dresses and toys for my daughters, she's truly creative. My mother-in-law has been vegetarian for over 50 years and so I'm surrounded by amazing ladies. In a wider sense too, yes I've been inspired by so many amazing women but I guess this book is about igniting a spark – there have certainly been women who have done that personally in my life – my first yoga teachers were responsible for me viewing the world from a different perspective, that took me on a road of reflection – one of the outcomes was that I became vegetarian and subsequently vegan.
What's your favourite fashion trend for your children?
Erika: My daughter is 6 and she loves unicorns and what I call "happy" clothes with prints and sparkles:) We have a winter coat from Stella McCartney with lots of white horses on and her earmuffs are white unicorns. When she chooses there's definitely something fun and prints. I (Erika) am Swedish and have a minimalist style so part of me wants her to go all white and black sometimes but then I realise she is little and will have plenty of time to wear a grown-up minimalist style – so it's all unicorns for now. We actually have one pair of matching boots from Stella McCartney with her signature stars on.
Keziah: I've quickly realised that it's pointless to shop for my 6 year old daughter without her approval first – I love for her to be able to express herself so I have to often take a deep breath and just embrace the collision of colours, fabrics and the sheer abundance of items she chooses remind myself that she's happy. Even though she regularly goes out looking like a Christmas tree, I feel like you're only young once and dressing can give such a sense of who we are as people.
What's most important to you when choosing an outfit for yourself , and for your children?
Erika: That it's comfortable and works with our lives yet looks stylish. For me dressing well is important – I have another business too www.dappad.com where I dress men to make them look their best self. The brands are also important – we choose smaller and independent brands often from Scandinavia and it's an extra bonus if they have an ethical and sustainable ethos. As we are vegan we avoid leather, feathers and fur of course too.
Keziah: I've definitely been trying to go for quality over quantity to make sustainable choices and for all of us I try to go for comfort and where possible organic fabrics.
We share your passion for saving the environment. What do you like about the experience of rental and resale fashion and how it can help the current consumer climate?
Erika: This is a crucial part of the future of retail and places a very important role. As a collective we need to simply consume less to put less strain on the resources of our planet and renting and resale just does that! We can all be more mindful of how much we consume and this makes us reflect.
Keziah: I absolutely love the initiative- it's like the best of both worlds- someone else has done the work for me – I can access a select range of stylish clothes with a lower price point that help to make fashion sustainable – amazing!
What would you say has been the driving force for your success?
Erika: Having the heart at the right place and wanting to create a kinder world.
Keziah: Having Erika. During the creative process we could bounce ideas to and fro and keep up the momentum that maybe would have waned alone – and for her tenacity, positivity and ability to get the job done.
What were your favourite outfits as a child?
Erika: I loved clothes from a very early age. I grew up in a small village in the north of Sweden where everyone knew each other. I went into a shop where the shop owner knew my mum and picked out a black skirt that when I spun around it had a great flow. I said my mum will come and pay for this later 😉 Unfortunately I had to return it 🙁 I also loved red as a child and I had a red velvet dress with lace that I wore with patent Mary Janes. Mary Janes were a staple in my wardrobe.
Keziah: I loved dresses and hats. I was a bit of a free spirit with style -I remember going to school in an oversized "Cats" (the musical) sweater with a belt one day. Oh and Sailor dresses 🤣